Axe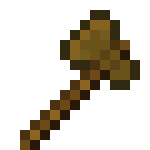 Type
Durability
Stackable?
[view] • Axes are tools used to ease the process of collecting wood-type blocks.
Crafting
Axe
Material
Material
None
Material
Stick
None
None
Stick
None
Uses
The role of an Axe is to quicken the collection of Wood and wood-type blocks. The Player may do this by hand, but at a severely reduced pace. Axes deal half a heart less damage than Swords, so should the Player be lacking a Sword, the Axe is a viable alternative. Attacking with an Axe or using it to mine a non-wood block will cause it to take double durability damage.
The most common type of axe made is probably the iron axe, as iron is a strong material that can be found in abundance. A Gold axe can mine wood and wood items the quickest by far, but it has much lower durability.
Axes can be made from 5 different materials:
Trivia
Diamond Axes can be used for fighting, as it deals the same damage with iron sword.
Gallery