Come on! Grow up!

This article is a stub. You can help by expanding it.
Baked Potato
Hunger Replenished
Obtained by
Cooking a Potato
Cookable?

Stackable?

(64)
First Appearance
1.4.2 (12w34a)
Data Values
Hex: 189
Dec: 393

A Baked Potato is a food item created by putting a normal Potato in a Furnace. It restores



when eaten. Baked Potatoes are preferable to Raw Potatoes because they restore more hunger.
Trivia
Poisonous Potatoes cannot be cooked into a Baked Potato.
In Minecraft 1.4 snapshots, Baked Potatoes had an old texture. They also had steam on top of them.
Gallery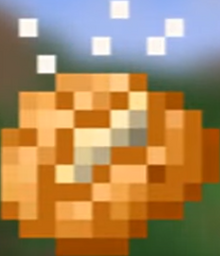 Ad blocker interference detected!
Wikia is a free-to-use site that makes money from advertising. We have a modified experience for viewers using ad blockers

Wikia is not accessible if you've made further modifications. Remove the custom ad blocker rule(s) and the page will load as expected.