Beacon
Talk

0
534pages on
this wiki
Beacon
First Appearance
12w32a
Type of Block
Solid Block
Stackable?
Yes (64)
Tool Used
None
Data Values
Hex: 8A
Dec: 138
Obeys Physics?

Luminosity

Transparency
The Beacon is an item added in the 1.4 update. Beacon Blocks, upon added to the top of a pyramid made of either iron, gold, diamond, and emerald blocks, can grant the player potion effects for a eight seconds but will last forever if the player is in range of the beacon.
Behavior
Beacon Blocks can only function when they are added on the top of a pyramid, and when not being blocked by a solid block on top of the beacon. The GUI consists of a primary, and secondary effect selection screen, a material acceptance selection header, and the player's inventory. The player must place the material (
iron
ingot,
gold
ingot,
diamond
, or
emerald
) in the header to activate the effects. When the material is placed, the player is free to choose an effect located in the primary effect screen. Whenever the player is in-range of the pyramid, the player will receive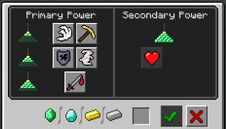 the effect. The effect(s) last forever, as long as the player is in range.
Crafting
The current crafting recipe for this block is 3 obsidian, 5 glass blocks, and one
Nether Star
, which are only obtainable by killing a
Wither
.
Gallery