Come on! Grow up!

This article is a stub. You can help by expanding it.
Blaze Powder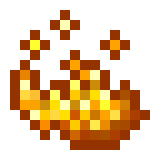 Type
Durability
Stackable?
[view] • Blaze Powder was first added in the 1.9 Pre-Release 2 and 0.12 for the Pocket Edition. It comes from a Blaze Rod, which is only obtainable when a Blaze is killed.
Uses
When brewed into an awkward potion or it creates Potion of Strength. Blaze Powder is also used to create Fire Charges and the Eye of Ender.
Crafting
Blaze Powder x2


(Shapeless recipe)

Fire Charge x3


(Shapeless recipe)

None
None
None
None
None
None
None
None
None
None
None
None
None
None
None
None
None
None
Magma Cream


(Shapeless recipe)

Eye of Ender


(Shapeless recipe)

None
None
None
None
None
None
None
None
None
None
None
None
None
None
None
None
None
None