Book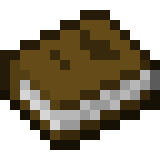 Type
Durability
Stackable?
[view] • Books are items crafted from paper and leather and currently serve no gameplay purpose other than in crafting books and quills, trading with villagers, and crafting Bookshelves. Books and paper usually appear in chests, inside strongholds.
Usage
Currently, the Books are used for making bookshelves using 6 pieces of wood and 3 books, making a Book and Quill in which you can write in, and making an enchantment table in which you may enchant things with.
Books can also be Enchanted to save up an enchantment for future purposes. The book will become an enchanted book, which will have an enchantment. Once Enchanted, the book can be applied to an item but will require a anvil.
Crafting
As an Ingredient
Trivia
In earlier versions of Minecraft, books were crafted with only three pieces of paper. However, this recipe still occurs in MCPE.