Cactus
Talk

0
460pages on
this wiki
Cactus Block
First Appearance
Alpha 1.0.6
Type of Block
Solid Block
Stackable?

(64)
Data Values
Hex: 51
Dec: 81
Obeys Physics?

Luminosity

Transparency
A
Cactus
, or
Cacti
, is a
block
that spawns naturally in
Desert
biomes
. Cacti can rarely be found on
Clay
that is found outside a body of water. When any entity - including the
Player
- touches a cactus, half a heart will be lost. Cacti are not
flammable
, so they do not catch on fire when over or touching
lava
or
fire
. Cacti can be placed on sand as long as the area is surrounded in sand. Cactus growth and spawning is not dependent on water, however, they can be placed beside a source of
Water
.
Special Uses
Edit
Cacti will destroy any resource that come into contact with them, including harvested cacti blocks. If a player or mob dies by cacti, it is likely that many of their dropped items will be destroyed. Therefore, making traps with cacti in order to farm resources can be less efficient. Cactus can be cooked in a furnace to make cactus green dye. Cacti can be used to protect your house from monsters by using two to three-block-high cactus, and then putting a netherrack block in the ground next to the cactus, then lighting it on fire. This is a common and simple wall, which is good against all mobs however, due to mob AI can be useless. Another form of cactus defense is to surround your home with cacti in a wall, with each cactus diagonal from the next one. This is also very efficient, and is easier to make since it does not require traveling to The Nether or anything that requires difficulty to obtain. One easy way to make a farm is putting water around a cactus and put a room under the cactus to catch items.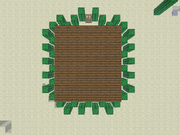 When a minecart hits a cactus block, the minecart is destroyed and dropped.
Cacti can be placed next to saplings. However, the cactus will break when the tree grows.
In the beta version of Minecraft, cacti were slightly larger when dropped.
Spiders can climb over cacti, but are hurt in the process.
The tops of cacti also deal damage despite the lack of spikes.
They do not contain water like real life Cacti.