Carpet
First Appearance
1.6.1
Type of Block
Decorative
Tool Used
Any
Data Values
Hex: AB
Dec: 171
Stackable?
Yes:64
Obeys Physics?

Luminosity

Transparency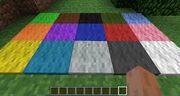 Carpet is a decorative item that was added in 1.6 for PC and 0.8.0 in Pocket Edition. A carpet is a thin sheet of Wool that can be placed on the ground. Blocks cannot be placed directly on top of carpets (such as the Lily Pad). Carpet can be used as fuel, smelting approx. 1/3 of an item; aside from that, they currently serve no real purpose other than to be aesthetically pleasing when decorating a house. The block acts like more of a half slab because no other blocks can be placed on top like a slab.
Trivia
Carpet can be played on any block, including string and fences. Doing the former allows for mob-proof walkways, as mobs will think that the carpets on string are air blocks; doing the latter allows for fences to be jumped by jumping on the carpet, then walking up onto the fence's collison box.
Placing carpet between an enchantment table and some bookshelves will cause the bookshelves not to influence the enchantment table.
Crafting
Crafted from any type of colored wool.
Carpet
None
None
None
Wool
Wool
None
None
None
None
Ad blocker interference detected!
Wikia is a free-to-use site that makes money from advertising. We have a modified experience for viewers using ad blockers

Wikia is not accessible if you've made further modifications. Remove the custom ad blocker rule(s) and the page will load as expected.