Cave Spider Jockeys are hostile mobs that are added only to Minecraft: Pocket Edition. They are Cave Spiders ridden by Skeletons. They were added in Update 0.11.0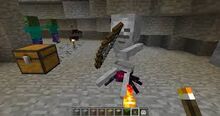 Spawning
Cave Spider Jockeys have 1% chance to spawn naturally in the Overworld. They also have small chances to be spawned with a Cave Spider Spawn Egg.
Attack
The skeleton that is riding the spider will shoot poisonous arrows at a player. The poisonous arrows will effect a player with the poison status effect, making them very dangerous. When the skeleton dies, the spider will start attacking at a player and will still poison him/her.
Strategy
A good strategy to fight cave spider jockeys is to use a Bow, as getting close is inadvisable. However, an iron sword or stronger would kill them easily. It is also advisable to fire from behind an object (e.g. a tree) so that the jockey's arrows cannot return the hit.
Ad blocker interference detected!
Wikia is a free-to-use site that makes money from advertising. We have a modified experience for viewers using ad blockers

Wikia is not accessible if you've made further modifications. Remove the custom ad blocker rule(s) and the page will load as expected.