Classic
Talk

1
529pages on
this wiki
Features
Unlike the Alpha and Beta versions of Minecraft, you can not craft items or inflict damage.
Much like Creative Mode, there are an infinite amount of blocks the player can use at their disposal, although, you can only place the old textured cobblestone. However, unlike Creative Mode, Minecraft Classic does not allow the player the ability to fly (without the use of mods or plug-ins).
Overview
Minecraft Classic was the original version of Minecraft. It was originally given away for free, however now it is bundled with the release edition.
Minecraft Classic does not include any mobs, except the players themselves (as Minecraft Classic does support Multiplayer as well as Singleplayer).
As is with all editions of Minecraft, Minecraft Classic is a sandbox game. This means there are no objectives and no unlocks - the player is free to do what they like.
As with most early Minecraft editions, worlds are generated randomly and have limited space.
Unlike the Alpha, Beta or Release editions of Minecraft, sponges have the ability to absorb water.
Single Player
Singleplayer is a mode within Minecraft Classic that, once selected, places the player in a world surrounded by fog. In this world, the player can use the infinite amount of materials available to them to create whatever they please.
Guests
Guests to the Minecraft website can play Minecraft Classic, but at a cost (price?).
Guests cannot save their levels like Premium users can; as Premium users can save their levels in the browser, whilst non-premium members must save any levels as a save file.
Multiplayer
Multiplayer within Minecraft Classic allows for several players to connect via a server. Servers in Minecraft Classic are operated in a very similar fashion to that of Servers on Minecraft Alpha, Beta, and Release.
As with current Minecraft servers, Minecraft Classic servers are compatible with mods and plug-ins.
Worlds in Minecraft Classic Multiplayer are an identical size to that of worlds in Minecraft Classic Singleplayer.
Blocks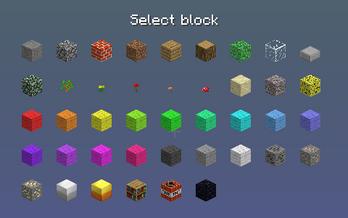 Blocks available in Minecraft Classic consist of:
Trivia
Creation Gallery