Come on! Grow up!

This article is a stub. You can help by expanding it.
Cobblestone Wall
First Appearance
12w34a / 0.8.0
Type of Block
Solid Block
Tool Used
Data Values
Hex: 8B
Dec: 139
Stackable?

((Max)
Obeys Physics?

Luminosity

Transparency
Cobblestone Walls are a decorative block implemented in the "Pretty Scary Update" for PC and 0.8.0 for PE. They can be used as an alternative to Fences, as their hitbox totals 1.5 blocks in height. Hence, they cannot be jumped over by the player without jump boosts. Like fences, Spiders can still climb/jump over.
Cobblestone walls can be a more efficient way to fence in mobs since it takes fewer resources than a Fence. There are 2 kinds of Cobblestone walls: the original cobblestone wall block, and the Mossy Cobblestone Wall. The Mossy Cobblestone Wall is crafted in the same way as the original, but with Moss Stone, instead.
Trivia
If the player puts String on top of the Cobblestone Wall, it will look like a castle wall.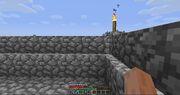 Ad blocker interference detected!
Wikia is a free-to-use site that makes money from advertising. We have a modified experience for viewers using ad blockers

Wikia is not accessible if you've made further modifications. Remove the custom ad blocker rule(s) and the page will load as expected.