Creative
Talk

0
460pages on
this wiki
Minecraft Creative Mode
was first released with the 1.8 Adventure Update, and became an option while creating a new world. Creative Mode removes the inventory and replaces it with a dialog that allows the player to simply drag and drop the
Blocks
/
Items
into his/her inventory. When it is placed in the inventory, only one of that block is visible, but that block is actually unlimited, this allows the
player to construct anything they want.
As of Snapshot 12w15a, when using the copy block on something such as Redstone Wire, Snow Layer, or a Nether/End Portal, it would give you exactly what you clicked (ex. Using copy block on a Snow Layer will give you the snow layer.)
Even though this isn't considered a glitch, it still is in sorts. When you use Copy Block on an entity (Excluding the Enderdragon, Players, or Piston Heads) it will give you the respective egg. Also, when the spawn egg is placed, it spawns a baby mob, but for only non-hostile mobs. Endermen, Spiders, or Squids do not count.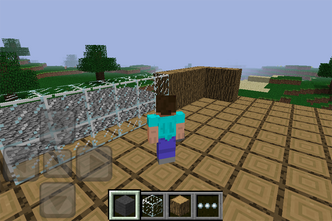 A group of players in the Xbox-360 edition used the Duplication glitch to get 254 of any item in order to improve their maps or to provide resources to other guests. Updates on the glitch were never official but instead reduced the chances of every successful duplication. For example, before the updates it only took one try with the dispenser glitch to get 254 items. However, when the updates came it was reduced to three tries and was later fully patched in another update. So far, the furnace glitch isn't fully patched and does the same thing except the success rate is much lower then first patched dispenser.