Daylight Detector
First Appearance
13w01a
Type of Block
Redstone
Tool Used
None
Data Values
Hex: 97
Dec: 151
Stackable?

(64)
Obeys Physics?

Luminosity

Transparency
A Daylight Sensor is a solar powered slab-like block that is activated only by sunlight. It is similar to a solar panel. It detects daylight in the sky and outputs a redstone signal that corresponds to the sunlight of which the sun is positioned. When the sun reaches its maximum daylight (at noon), it can activate up to 15 redstone activated blocks. Daylight sensors only activate when in sunlight, and will turn off during the night. From 1.8, you can turn them into "night-time sensors" with a simple right click, making them giving out a current when turned to night. This makes for much easier lampposts. You cannot push Daylight Sensors with a Piston.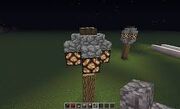 Crafting
History
Added in 13w01a
Officially implemented in 1.5
Ad blocker interference detected!
Wikia is a free-to-use site that makes money from advertising. We have a modified experience for viewers using ad blockers

Wikia is not accessible if you've made further modifications. Remove the custom ad blocker rule(s) and the page will load as expected.