A desert well is a structure introduced in 1.2.1. It is made of sandstone blocks and slabs. It always spawns in a Desert. It is considered to be very rare, even though large amounts usually spawn near Desert Temples. It contains five blocks of water, four on the outside, and one in the center. When a block of water is taken from the sides, it will not reappear, but it will be replaced if taken from the center.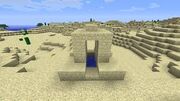 Purpose
There currently is no purpose of the well except for a scenic look. The well is mainly a decorative world generated structure that provides a source of water in the desert.
Sometimes if you go in the center water block you will either land in a Dungeon, Stronghold or an Abandoned Mineshaft.
Trivia
Sometimes there will be desert wells on either side of a Desert Temple.
Gallery