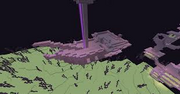 The End Ship is a structure composed entirely out of Purpur and End stone bricks, and Obsidian on the floor, that will appear in the new End City.
Contains two chests with valuable loot, including enchanted armor and tools.
Contains at least two Shulkers.
Contains an Item Frame with Elytra.
Contains a brewing stand that has two potions of Instant health II.
Contains a Dragon Head at the very front of the ship.
Ad blocker interference detected!
Wikia is a free-to-use site that makes money from advertising. We have a modified experience for viewers using ad blockers

Wikia is not accessible if you've made further modifications. Remove the custom ad blocker rule(s) and the page will load as expected.