Experience Points are small, glowing orbs that, when gathered, can total up to Experience levels that can be used in Enchanting or for repairing items in an Anvil. The Player can obtain experience orbs by killing Mobs, Breeding, Smelting, Fishing, Mining some blocks and using Bottle o' Enchanting as seen below.
Large mobs that are difficult to kill, such as the
Ender Dragon
and 
Wither
, will drop a lot of experience points when killed. They gravitate toward the player slower if the player is farther away, and faster if the player is closer. The Experience Bar can be found at the bottom of the screen, above the player's inventory, and will gradually fill with glowing green sections when more Experience orbs are collected.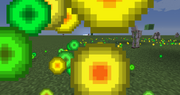 Experience Point Source Chart
Sourc

e

 

Experience

Animals

Chicken, Cow, Mushroom Cow, Ocelot (cat), Pig, Sheep, Squid, Wolf (dog),

1–3

Bats and All Baby Animals

0
Golems

Iron Golem, Snow Golem

0
Monsters

Cave Spider, Creeper, Enderman, Ghast, Silverfish, Skeleton, Spider


Wither Skeleton, Zombie, Zombie Pigman

5
Slime (Large), Magma Cubes (Large)
4
Slime (Small), Magma Cubes (Small)
2
Slime (Tiny), Magma Cubes (Tiny)
1

Spider Jockey

5 for spider, 5 for Skeleton

Blaze

10
NPCs

Villagers

0

Witch

5
Boss

Ender Dragon

12,000

Wither

50
Mining blocks

Coal Ore

0–2
Diamond Ore, Emerald Ore
3–7

Nether Quartz Ore, Lapis Lazuli Ore

2–5

Redstone Ore

1–5

Monster Spawner

15–43
Smelting/Cooking

Gold Ore, Emerald Ore, Diamond Ore

1.0

Iron Ore, Redstone Ore

0.7

Potato, Raw Beef, Raw Chicken, Raw Fish, Raw Porkchop

0.35

Clay

0.3

Cactus

0.2

Wood

0.15

Sand, Coal, Netherrack, Cobblestone

0.1
Other

Bottle 'O Enchanting

3–11
Breeding animals
1–4
Catching

Raw Fish

1–3
History
Experience Points were added to Minecraft during the first part of the Adventure Update. They were originally revealed by Jeb during an interview. Experience can be obtained by gathering Experience Orbs from defeated mobs and players.
Benefits
As of Beta 1.8, there was no measurable benefit to gaining Experience Orbs and levels. They were probably just for display.
As of 1.9 Pre-release 3, experience levels are indicated by a number above the experience bar, which increases by one every time the bar is filled.
The ability to spend experience levels for the enchantment of items with an Enchantment Table was added in 1.9 Pre-release 3, but had no actual effect until 1.9 Pre-release 4.
Sounds
Trivia
In Beta 1.8 Pre-release 1, when the player died, they dropped all of their experience orbs individually. This created a problem with retrieval of drops if the player had accumulated a large sum of experience, due to the extremely large amount of orb items created at the specific point. On SMP servers, this could be enough to even crash a server.
In Beta 1.9 Pre-release, the player gained Experience from jumping. This was part of code left in by Jeb for testing Experience.
Sometimes, in Multiplayer, the Experience Orbs will orbit the player.
At their death, Withers and the Ender Dragon drop noticeably large orbs along with dozens of regular ones because they are bosses. Withers drop less experience points than the Ender Dragon does.
Single-player maps brought into Multiplayer will cause a bug where the Player will have their experience reset.
Experience points are abbreviated to XP.
The max level you can have of Experience is 2147483647 levels.
The colors of the experience orbs are either green or yellow.
In Minecraft: Pocket Edition, the max level a player can reach is 24791. However, achieving this level is impossible unless a player uses the /xp command.
Ad blocker interference detected!
Wikia is a free-to-use site that makes money from advertising. We have a modified experience for viewers using ad blockers

Wikia is not accessible if you've made further modifications. Remove the custom ad blocker rule(s) and the page will load as expected.