Flint
Type
Raw Materials
Uses
Uses: Crafting
Stackable?

(64)
First Appearance
Classic 0.0.14a
Data Values
Hex: 13E
Dec: 318
[view] •

Flint is a resource that makes Flint and Steel when combined with an Iron Ingot. It can also be used with Sticks and Feathers to make Arrows for Bows.
Obtaining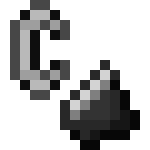 Flint can be obtained by destroying
Gravel
, whether it's by hand or by
tool
. Destroying gravel has a 10% chance of dropping flint; however, if using a tool with the
Fortune enchantment
 in use, gravel has a higher chance of dropping Flint. The highest chance is with Fortune III, which makes dropping flint certain.
Uses
Flint is commonly used with an iron ingot, which makes the useful tool Flint and Steel, which is very commonly used to light TNT, activate Nether Portals and set fire to grass, wood, wooden planks, fences, Netherrack, etc. It can also be used in combination with sticks and feathers to make arrows for bows.
Crafting
Trivia
An alternative of obtaining Flint is by placing a block of Gravel (in rows or by itself) and destroying it. You can then place the gravel again and repeat the process until you obtain Flint.
Flint is used in the only NPC Villager trade to offer a service. If you give a villager offering this trade 10 gravel and 4-5 Emeralds (emerald number depends on villager), the villager will give you 4-5 Flint. This shows that the villager is offering to separate flint from gravel. No other trade shows a service being offered.
Gallery
Ad blocker interference detected!
Wikia is a free-to-use site that makes money from advertising. We have a modified experience for viewers using ad blockers

Wikia is not accessible if you've made further modifications. Remove the custom ad blocker rule(s) and the page will load as expected.