This article or section contains information exclusive to

Minecraft: Pocket Edition

, a version of

Minecraft

specifically for mobile devices. The content herein may not be available/accessible in other versions of

Minecraft

.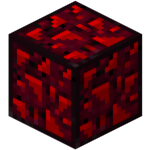 Glowing Obsidian is a Block that appears in Minecraft: Pocket Edition.
Overview
The Glowing Obsidian will occur when the Nether Core Reactor is activated. All the materials that are used to activate the reactor (14 Cobblestone blocks and 4 Gold blocks) will convert to Glowing Obsidian when the reactor is activated. The Glowing Obsidian appeared to be a red Obsidian that glows. Once the Reactor has "burned out" the Glowing Obsidian will then turn to regular Obsidian, which can then be collected with a Diamond pickaxe. If mined while the reactor is activated, it will still drop regular Obsidian. Glowing Obsidian can currently only be obtained through editors.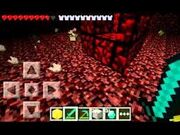 The Latest Updates
1.02_6 is the first appearance of the Glowing Obsidian
1.02_7 added smoking effects on the Glowing Obsidian
1.20_8 fix bug for breaking the Glowing Obsidian and the Nether Reactor
Trivia
After Update 0.12.1 the Nether Reactor got removed, which meant glowing obsidian could not be spawned anymore.
In older versions of PE, glowing obsidian could be mined with an Iron Pickaxe. However, this was removed in Update 0.7.3.
You can use mods that add Glowing Obsidian to the Creative Inventory.
Ad blocker interference detected!
Wikia is a free-to-use site that makes money from advertising. We have a modified experience for viewers using ad blockers

Wikia is not accessible if you've made further modifications. Remove the custom ad blocker rule(s) and the page will load as expected.