Come on! Grow up!

This article is a stub. You can help by expanding it.
Grass Path is a type of grass which was added in 1.9. To obtain it, players need to right-click grass with a shovel, similar to how hoes are used to make farmland.
Usage
The usage of pressed dirt is possibly for trails and roads.
Trivia
The idea was suggested by Reddit user LucasX. Jeb saw it, and he decided to add it to Minecraft PC and PE. The PE screenshot shows the player holding a shovel while with the pressed dirt, which could mean the shovel would be used to create the block.
PE Dev Tommaso released a screenshot showing what villages would look like with the gravel roads being replaced with Grass Paths.
Grass paths are slightly smaller than grass blocks.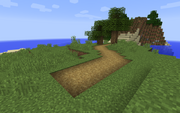 Ad blocker interference detected!
Wikia is a free-to-use site that makes money from advertising. We have a modified experience for viewers using ad blockers

Wikia is not accessible if you've made further modifications. Remove the custom ad blocker rule(s) and the page will load as expected.