Come on! Grow up!

This article is a stub. You can help by expanding it.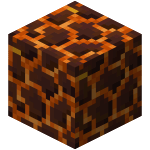 Magma is a block found in The Nether, implemented in The Frostburn Update. It is basically a solid version of Lava, which deals the player roughly half a heart of damage when they stand on top of it, regardless of armor or protective enchantments. However, it's damage can be prevented using the Frost Walker enchantment.[1] This can be used to create traps for mobs that may walk near your house.
Trivia
If a player dies from touching Magma, the death message reads: "<Player> discovered floor was lava."
Despite dealing 1/2 a heart of damage to the player, much like a cactus on the surface, it can't be used to dispose of items. However, it can be used to surround a base, if so desired. The benefit of this is due to its major abundance in the Nether.
It is a special block that actually constantly changes texture (watch the above picture).
Gallery
Ad blocker interference detected!
Wikia is a free-to-use site that makes money from advertising. We have a modified experience for viewers using ad blockers

Wikia is not accessible if you've made further modifications. Remove the custom ad blocker rule(s) and the page will load as expected.