Minecart with Spawner
Type
Entity; Transportation
Uses
Transportation
Stackable

Technical Name
minecraft:spawner_minecart
[view] •
Come on! Grow up!

This article is a stub. You can help by expanding it.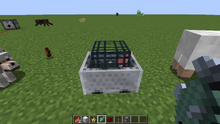 The
Minecart with Spawner
is a
Minecart
that has a
mob spawner
in it. It can only be obtained by using the /summon
command
since it cannot be obtained by using the /give command. Using
NBT tags
inside the /summon command, custom mobs/entities can be spawned from the spawner inside of the minecart. The spawn time and max entity count can also be adjusted in this way. Simply using the /summon command without any NBT tags added will create a pig spawner inside of the minecart by default.
Ad blocker interference detected!
Wikia is a free-to-use site that makes money from advertising. We have a modified experience for viewers using ad blockers

Wikia is not accessible if you've made further modifications. Remove the custom ad blocker rule(s) and the page will load as expected.