Minecraft: Wii U Edition

Minecraft: Wii U Edition Logo

Developer

4J Studios Ltd. and Microsoft Studios

Publisher

Platform

Wii U

Release Date

eShop: December 17, 2015
Retail Disk: June 17, 2016 [1]

Price

NA: $29.99 (Bundle Only)
EU: Equivalent [2]

Version

Launch: 1.6.4
Current: 1.8.8

Game Modes

Single-Player, Multiplayer (up to 4 players local, 8 players online)

Rating

ESRB: E10
PEGI 7
Minecraft: Wii U Edition is a console version of Minecraft developed by 4J Studios Ltd. and published by Mojang AB for the Nintendo Wii U. The game was announced on December 7, 2015 and released 10 days later on December 17, 2015 on the Nintendo eShop, as a bundle only, for the price of $29.99. The bundle contains six add-on packs, including the Festive Mash-Up pack.[3] This bundle is almost identical to the Holiday Bundle sold on the Xbox Store for the Xbox One[4] for the same price. The only difference is that the Holiday Bundle for Xbox One also has the Halo Skin-Pack included in its bundle, while the Wii U has the Super Mario Mash-Up Pack included in its bundle. The retail version of Minecraft: Wii U Edition was released on June 17, 2016.[5] The game was released at version 1.6.4. The following day, 4J Studios released version 1.8.8 for the Xbox 360, Xbox One, PS3, and PS4 versions of Minecraft.[6] Version 1.8.8 was released for the Minecraft: Wii U Edition on February 2nd, 2016.
Technical Features and Game Modes
The Minecraft: Wii U Edition runs at a native resolution of 720p at 60 fps during single player game play. The world size is the same as the Xbox 360 and PS3 versions of the game (864x864). The game also supports up to 4 players on local multiplayer, and up to 8 players online. For local multiplayer, a High Definition television display is required. For online multiplayer, the game supports in-game voice chat.[7] The Minecraft: Wii U Edition supports the Wii U GamePad, the Wii U Pro Controller, Wii Classic Controller, Wii Classic Controller Pro, and USB Keyboards. Interestingly, there is a menu option to use Miis in-game; however, it seems that feature is not active, since there isn't a clear way on how to use the Miis. As with the rest of the console versions, the game has three main game modes (creative, survival, and adventure), a tutorial world, and a Mini Games Mode (Battle and Tumble).
Version 1.8.8 was released on February 25th, 2016; bringing Minecraft: Wii U Edition on par with its console counterparts. As with the other consoles, version 1.8.8 features several new biomes such as Deep Ocean, Mega Taiga, and Savanna; Ocean Monuments; new blocks such as granite, andesite, and coarse dirt; new mobs such as Rabbits and Elder Guardians; new items; marine fauna; professions for the villagers; and much more! Another update released on April 6, 2016 added a number of fixes and features. Among the most notable features added are Achievements, Wii Classic Controllers support, Story Mode Skin Pack, expanded touchscreen support (unofficial), and expansion of the shaded area of the game maps (unofficial).
GamePad Features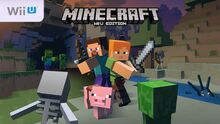 The game features Off-TV gameplay via the Wii U GamePad and touchscreen support, similar to that of a PC mouse interface, which allows for navigation of all in-game menus, selection of all menus screens, and changing of all the options including slider bars i.e. gamma slider bar and sounds volume. The touchscreen also allows for crafting, item selection on the "hotbar" (HUD item bar), and scrolling support was added to the crafting screen so all items can be selected through the touchscreen. However, the game does not allow for direct item selection of the inventory screen through the touchscreen. In order to manage the inventory through the touchscreen, a player must hover the cursor over the item with the controller stick as if it were a PC mouse, then manage the inventory on the touchscreen with the commands buttons on the bottom on the screen.
Mini Games
Battle
Main article: Battle Mode
On June 21, 2016; 4J Studios announced the release of Battle Mini Game for all console versions of Minecraft. This free update introduced the popular "Hunger Games" PC mode to consoles. In Battle, up to eight players (with up to 4 players local) can fight their against each other in a frantic melee to the last player standing. The basic Battle mode includes three arenas: Cavern, Cove, and Crucible. More arenas would be released as DLC in the upcoming months for the price of $2.99 USD per Map Pack with the option to buy all Map Packs on a Season Pass for $9.99 USD or equivalent. The first DLC Map Pack available at time of release included three maps: Lair, Medusa, and Temple.[8] On July 26, 2016; Mojang released the second DLC Map Pack, which includes the maps Atlantis, Ruin and Siege.[9] On August 30, 2016, the third DLC Map Pack was released, which included the maps Castle, Shipyard, and Invasion.[10]
Tumble
Main article: Tumble Mode
Along with the third Battle DLC, 4J Studios released a second Mini-Game called Tumble which is based on the popular Spleef mode of
Minecraft
for PC. In Tumble, up to eight players online, with up to four players local, can battle in two modes: Shovel, snowball, mixed. The object of the game is to knock down players from the floating platform into the lava below by destroying blocks from the platforms by using snowballs or shovels. So far Tumble has about four different platform layouts which are selected at random. The first player to win "two out of three" rounds wins. Players can vote before each match on whether they want to use only shovels, snowballs, or randomly mixed rounds of each of the two aforementioned "weapons".
Software Bundle and Downloadable Content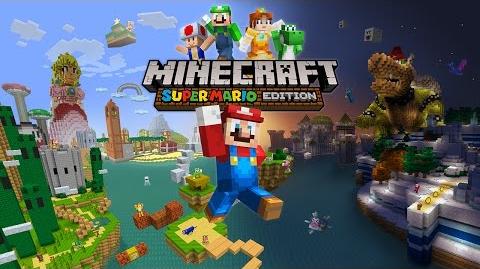 Minecraft: Wii U Edition was released as a bundle featuring six of the most popular add-on packs.[11] The packs included in this bundle are the Battle and Beasts skin packs 1 and 2, the Natural texture pack, the Festive Mash-Up pack, the City texture pack, and the Fantasy texture pack. In addition, a total of 16 add-on packs were released on the eShop for purchase at various prices. These DLC packs include three Star Wars skin-packs, the Greek, Mass Effect, and Skyrim Mash-Up Packs, various texture packs, and many more. Microsoft Studios and Mojang have also stated that they are working with Nintendo to bring new content to the Minecraft: Wii U Edition[12].
On May 9, 2016; Mojang announced the release of the Super Mario Mash-Up Pack, which features a Mario-themed pack, 16 original tracks from Super Mario 64, and over 40 characters to play as. The Mario Mash-Up pack was released on May 17th for free as part of a game update.[13]
Trivia
In June 2014, Shynia Takashi, Director of Nintendo's Software Planning and Development department, stated in an interview by Kotaku that, "...in Japan, Minecraft is not popular in the way it is in the U.S. and Europe, so... if we were able to do a partnership like that, it might... help make Minecraft more popular in Japan."[14] He turned out to be correct. After only 11 days of being released, the Minecraft: Wii U Edition became the 9th best selling Japanese eShop title of all-time, surpassing Super Smash Bros. for Wii U for the 9th spot.[15]
At 1,093.9 MB, the Minecraft: Wii U Edition is the largest download file of all the console versions. Minecraft for Xbox 360 and Xbox One are 113.21 MB[16] and 770.08 MB[17] respectively, while the PS3 and PS4 versions are 243 MB[18] and 215 MB[19] respectively.
Interestingly enough, once the game is installed, Minecraft: Wii U Edition game file is only 468 MB in size, but EACH player's save data file is 512 MB in size. Since the Wii U can have up to 12 user profiles per console, one could potentially end up with a 6,612 MB game file, or 6.46 GB, if all 12 players were to create save files of the game. That is not even taking into account extra DLC packs nor game updates.
Minecraft: Wii U Edition was released as a bundle. There is no "Basic" version of the game. This is why the game is $29.99, as supposed to $19.99 as in the other console versions.
References
Ad blocker interference detected!
Wikia is a free-to-use site that makes money from advertising. We have a modified experience for viewers using ad blockers

Wikia is not accessible if you've made further modifications. Remove the custom ad blocker rule(s) and the page will load as expected.