Minecraft Coins are a currency used to purchase content within the Minecraft Marketplace.
Overview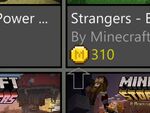 Purchasable content in the marketplace (such as Skins, Texture Packs, or Minecraft Worlds) is created by other users, and uploaded to the marketplace, where varying amounts of coins are needed to purchase the content. The icon for this currency appears as a golden circular-shaped coin, with an "M" on it (which stands for "Minecraft"). The number of coins that a user has in their account, is displayed beside the coin icon within the marketplace.
This service is exclusive to Minecraft on mobile devices. To buy Minecraft coins, an Xbox LIVE account is required, and real-world money must be spent to add coins to the user's account. These coins are subtracted from a user's Xbox LIVE account when content is purchased from the marketplace.
Cost of Minecraft Coins
320 Coins for $1.99 USD
1020 Coins for $5.99 USD
1720 Coins for $9.99 USD
3500 Coins for $19.99 USD
8800 Coins for $49.99 USD
Ad blocker interference detected!
Wikia is a free-to-use site that makes money from advertising. We have a modified experience for viewers using ad blockers

Wikia is not accessible if you've made further modifications. Remove the custom ad blocker rule(s) and the page will load as expected.