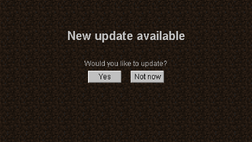 NOTE: Some Minecraft versions may not be listed here or are mentioned incorrectly. If there is an error, feel free to edit the article!
Minecraft is never finished and is constantly being worked on by Mojang, so updates are frequently released for all platforms.
Updates for the game may include new, removed, or tweaked features such as blocks, items, entities, code, etc.
Users will not be able to receive updates if they choose to play Minecraf offline.
The following is only a list of versions. For the content added, tweaked, or removed in each update, see here.
NOTE: Alpha and Beta (that is, versions from June 30, 2010 to September 19, 2011) updates were only ported to the launcher. Unless you have third party mods or systems, the old sounds for doors, bows, etc. will not play.
Pre-classic: this phase of Classic was never publicly released. However, four versions are currently available to play in the launcher's Time Machine function:

rd-132211
rd-132328
rd-160052
rd-161348
Multiplayer test
Survival Test
Indev
Infdev
Alpha
Beta
Official release
Future versions
Ad blocker interference detected!
Wikia is a free-to-use site that makes money from advertising. We have a modified experience for viewers using ad blockers

Wikia is not accessible if you've made further modifications. Remove the custom ad blocker rule(s) and the page will load as expected.