Moss Stone
Talk

0
518pages on
this wiki
Moss Stone
First Appearance
Survival Test 0.26 (October 24, 2009)
Type of Block
Solid block
Stackable?

(64)
Tool Used
Data Values
Hex: 30
Dec: 48
Blast Resistance
30
Obeys Physics?

Luminosity

Transparency
Moss Stone
, also known as
Mossy Cobblestone
, was first introduced in the Survival Test and remains in all later versions of the game. It looks similar to
Cobblestone
, but with moss growing in its cracks. They primarily compose the floors of
Dungeons
as well as
Jungle Temples
, which are the only legitimate way of obtaining the block in survival mode. Because of this, many jungle temples and dungeons will be completely mined out, "ruining" their appearance on servers because players are bent on collecting them for trading or building.
Uses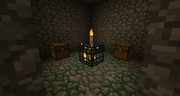 Unlike standard cobblestone, moss stones cannot be smelted. They can, however, be crafted into a
Mossy Cobblestone Wall
. Their only use is in construction and they are often used in combination with normal cobblestone for decoration purposes, such as to make buildings look older or to make
Nether Portals
more eerie.
In Crafting
Location
It can be found naturally as collections of 30-64 at a time in underground dungeons, as the main component of Jungle Temples and as "tombstone" in the Mega Taiga Biom.