Note Block
Talk

0
517pages on
this wiki
Missing No
150px
First Appearance
Alpha 7.1.2
Type of Block
Glich
Stackable?

(8)
Tool Used
Picaxe
Data Values
Hex: 19
Dec: 25
Obeys Physics?

Transparency
The
Note Block
is a block that can produce sounds when hit or powered by
Redstone
. The type of sound produced is dependent on the block immediately below the note block itself. Right clicking increases the pitch by one half-step.
Music
A note block will play a note when hit or when powered by redstone. Redstone current only causes the note to play once, even if it is powered by a continuous current. A note block requires at least one block of air above it to play a sound. Notes can be heard up to 48 blocks away. Each time a note block plays a note, a note particle will appear from the top. The color of the particle depends on the pitch, but not the instrument.
Wiring
In order to wire Note Blocks to play a note, power must be applied to any side of the Note Block using Redstone Dust and a Switch or Redstone Torch, or to the bottom using a Redstone Torch directly. Simply placing a switch or pressure plate on an adjacent block or providing power to the block beneath the Note Block will not trigger the note block.
Gallery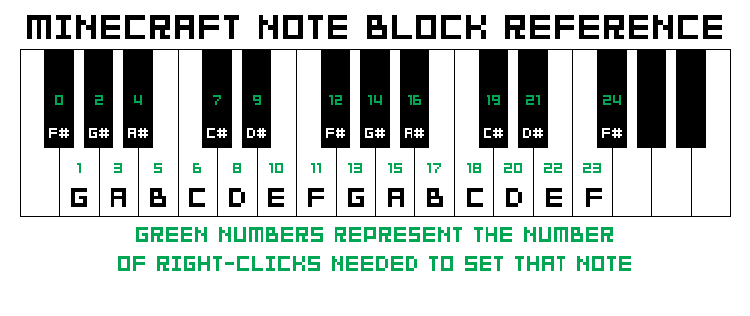 Trivia
Note Blocks can only play when there is at least one block of air above them, so blocks like torches and signs cannot be placed directly above Note Block (including water).
In the source, Note Blocks are called "music blocks."
A doorbell can be made using two Note Blocks.
Crafting