Pufferfish
Talk

0
565pages on
this wiki
Come on! Grow up!

This article is a stub. You can help by expanding it.
Pufferfish
Hunger Replenished
Obtained by
Fishing
Stackable?

(64)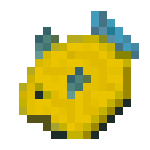 The
Pufferfish
is a
Fish
in
Minecraft
, added in Update 1.7. It can be obtained by fishing. When eaten, it will give you nausea(the screen wobbles), poison (which will take you down to half a heart) and hunger. So NEVER, EVER eat it. Instead, use your pufferfish to tame ocelots or brewing.
Pufferfish can be used to make the Water Breathing Potion. The water breathing potion allows you to breathe in water. Pufferfish can also be used to tame ocelots, and there's no chance of the ocelot getting poisoned.