Redstone Comparator
Type of Block
Redstone Blocks
Tool Used
Any
Data Values
Hex: ???
Dec: ???
Stackable?

Max:64
Obeys Physics?

Luminosity

Transparency
Redstone Comparators are a special redstone block that is similar to redstone repeaters. Redstone comparators have a third torch on them, allowing for complex redstone features. Redstone comparators have three ports, with two being for input, the third for output. Redstone comparators also measure how many things an entity holds or weighs, allowing for very interesting adventure maps. They also detect how many items are stored in a container block (such as a chest, hopper, dropper, or dispenser).
A tutorial on YouTube is available, showing on how to build with a redstone comparator.
Crafting
Gallery
Video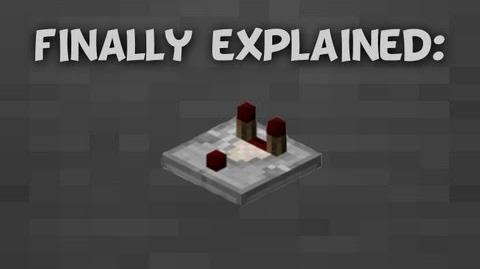 Ad blocker interference detected!
Wikia is a free-to-use site that makes money from advertising. We have a modified experience for viewers using ad blockers

Wikia is not accessible if you've made further modifications. Remove the custom ad blocker rule(s) and the page will load as expected.