Sign
Talk

0
461pages on
this wiki
Sign
First Appearance
Classic 0.24 (August 20, 2010)-
Type of Block
Non-Solid
Stackable?
Yes (16)
Tool Used
Data Values
Hex: 143
Dec: 323
Obeys Physics?

Luminosity

Transparency
A Sign is a thin block that can be written on, just as signs are used. This text can be written by the player once the block is placed. When a sign is destroyed, the original text is destroyed and isn't saved in any way. Only four lines of text can be put on a sign, and there is a character limit for what can be typed. If you want to change what it says from the sign, all you do is remove the sign, by punching it, and right-click where you want to place it while holding the sign.
Signs were originally added in the Survival Test but were soon removed. They were re-introduced in Indev and became their normal size with the Secret Friday Update.
Multiplayer
Edit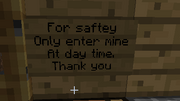 Signs are used in multiplayer for several reasons. They are normally used for marking property, leaving directions, warning for danger, and stating rules. They are also used to keep other players out of your home or chests by putting [Private] on the top, and then your name under it. Note that this only applies on servers with the Lockette plugin installed.
Signs are crafted by placing wood planks in the upper 3x2 section of the grid and placing a stick in the lower middle square:
Signs originally displayed preset text.
Signs can be placed on the side of slabs and stairs, unlike torches.

Because of their looks, signs can be used to decorate, such as an armrest on a chair.

If you were to write a "curse word" onto a sign, it would be censored out with a "!?". However, some curse words are not censored if you replace one or two of the letters with *.
In pocket edition, signs were added in 0.5.1, whereas in Xbox 360 Edition, they were added straight away.