Steve (Mob)
Talk

0
460pages on
this wiki
Steve (Mob)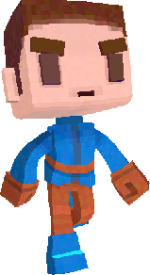 [view] • [talk] "Steve" was the name of one variant of the now disused human mobs. They were originally in-game as a test during the Indev phase. At that point, it had been stated that the player avatar or default skin would look like Steve in the future, albeit with a miner hat and a different skin.
Steve was made by "Dock", Minecraft's past artist, as were the similar looking Rana, Black Steve,and Beast Boy. All four of them were scrapped when Dock left the development team. The player model remains the same as the now removed Human NPC.
The current Minecraft player model appears in Super Meat Boy as a playable character called Steve. Notch isn't sure that this is his official name, as he puts a question mark symbol after it.
Stevie (the default username in Minecraft Pocket Edition.)and Steve are similar names
Steve (along with Beast Boy and Black Steve) is in "Not in Minecraft Mod".
Steve, Beast Boy and Black Steve are all big with really skinny bodies, like a giant baby mob.
References
Edit