TNT
Talk

2
542pages on
this wiki
Creepers blow up things if you get close to them |image=TNT.png |versions=Classic 0.9- 1.3.2 |type=Solid Block |stack=Yes:64 |tool=None |decvalue=46 |hexvalue=2E |physics=Yes |luminosity=Yes |transparency=No }}TNT is a block that explodes when ignited. For exactly four seconds, it will flash white and allow the player to move through it. The explosion is easily capable of destroying most blocks in the vicinity. Fragile blocks, such as Dirt and Sand, are the most affected, while sturdier types, such as Cobblestone, are more resistant to the explosion. TNT does not obey physics until lit, where it will then fall until it hits a block or detonates. TNT is crafted using Gunpowder and Sand. It is a very infamous griefing tool, as a TNT block can easily destroy most blocks besides obsidian and bedrock. Because of this, it is often banned on servers that don't allow griefing. TNT is technically a "natural" block because it naturally appears in Desert Temples and is used as a trap.

TNT is detonated from being lit on fire (such as from a Flint and Steel) or from receiving an active redstone current. Active Redstone wiring, or any adjacent device capable of generating a current such as a Switch or Pressure Plate, will successfully ignite it. Hitting the block has no effect. There is a short fuse time, allowing the player to retreat to a safe distance. After being ignited, it will perform a slight jump in the air before returning to the ground and exploding.

Too much TNT can end up crashing your world, and is best used in moderation. When a massive amount of TNT is detonated at the same time, the resulting destruction of blocks can crash the game, stating that Java has run out of memory.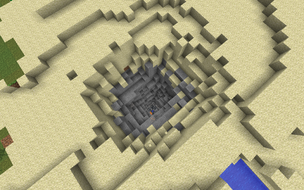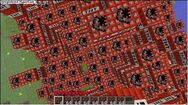 Crafting
Crafting TNT requires five Gunpowder and four Sand.
Trivia
TNT can no longer be activated by being hit by the player as of Beta 1.7.
TNT cannons can be made using Water, TNT, Redstone, a Button, Redstone Repeaters, Sand, and Pistons. Many people use TNT cannons in SMP for arcade-esque games.
In the 1.3 update, TNT's explosion radius was doubled. Endermen can pick up the block and then place it on the ground, where it will automatically detonate. *TNT "naturally" spawns in Desert Temples as a booby-trap. Igniting the TNT will destroy the treasures in the Chests inside. TNT can also be used to create a TNT minecart.
You can ignite TNT with lava.