Tripwire Hooks
are
redstone
-affiliated
items
in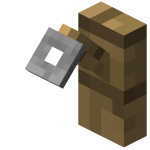 Minecraft
. They were first released in the 1.3.1 Update. Tripwire hooks can be placed on the sides of solid, opaque
blocks
(not the top or bottom) and can be armed by placing
string
on the ground in a horizontal line between two tripwire hooks. If a
player
or another entity falls or steps on the tripwire when it is activated, it will power the Tripwire Hooks and be able to send a continuous
redstone
signal as long as an entity or player is over the tripwire. If the tripwire is broken, the Tripwire Hook will send a short current after being deactivated. However, it can be safely disarmed by destroying the string with
shears.
 Tripwire Hooks can be found in a 
jungle temple
 rigged to arrow dispensers.
Crafting
Trivia
If the tripwire hook is armed, when destroyed, it makes a sound similar to the sound it makes when a bow is released.
A trip wire line can be activated by arrows. Once the arrow is picked up the signal will stop. If a dispenser is being used, the dispenser will shoot one more projectile when deactivated.
Tripwire hooks were added to PE in Update 0.13.0.
Ad blocker interference detected!
Wikia is a free-to-use site that makes money from advertising. We have a modified experience for viewers using ad blockers

Wikia is not accessible if you've made further modifications. Remove the custom ad blocker rule(s) and the page will load as expected.