It's me again, CP Lover número uno! ;)
I just wanted to let everyone know that these sorts of pictures: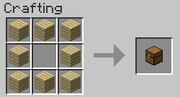 will be deleted (by me and other members) from the respective pages, because there is a separate Template for the crafting part, so please if you see them, delete them (and if there's no template on that page, than make one or contact me, I'll do it happily!) and don't upload any more of them.
Thanks for your understanding, and have a nice day!
CP Lover 1 (talk) 16:15, August 7, 2014 (UTC)
Ad blocker interference detected!
Wikia is a free-to-use site that makes money from advertising. We have a modified experience for viewers using ad blockers

Wikia is not accessible if you've made further modifications. Remove the custom ad blocker rule(s) and the page will load as expected.