A few days ago I rebuilt and moded a naturally spawned village for a fun challenge. After the fact I noticed the villagers dying off. I staked out and noticed they were being killed by zombies. I don't understand how this is possible, since the entire village is enclosed by a 4 1/2-Block high wall, and is lit by Redstone street lamps. So how are the mobs getting in/spawning?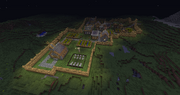 Ad blocker interference detected!
Wikia is a free-to-use site that makes money from advertising. We have a modified experience for viewers using ad blockers

Wikia is not accessible if you've made further modifications. Remove the custom ad blocker rule(s) and the page will load as expected.