Hi. I wanted to share my Seattle Seahawks Stadium (or Century Link Field) that I made by myself from scratch in Minecraft Xbox edition. Here is a picture of the entire thing.
I have yet to count how many blocks in height, width and length this is, but I know it is gigantic. This took me about 2 weeks in total, about an hour each day working on it. The closest I can come to measuring its size right now is that I know you can fit 2 or 3 small NPC villages in it. I started by making the field first, which I messed up on like a hundred times. Here's a picture of the field.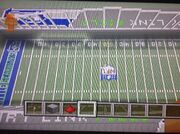 I also created scoreboards that actually keep score. I also have a ton of seats, but not as many as the real Century Link Field!
You can also see the hawks nest, which is the part with Seahawks eyes looking straight ahead, which has seats in it. I will admit that the hawks nest is actually supposed to be on the other end of the stadium, but I already finished it when I figured this out.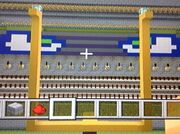 I also was surprised at how well the NFL logo turned out on the field. I also if you haven't already noticed, made the 50 on the 50 yard line gold, which is what they are doing this year because this super bowl will be Super Bowl 50.
I just recently made the locker room. The locker room leads out into the field like they do in an actual game. Each locker has a Seahawks players jersey number and their last name above the locker. This was a little extra thing that I did.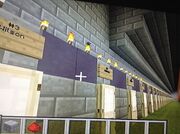 The final thing I want to show you is the retired numbers. Those numbers are 80, Steve Largent, 12, the fans, 71, Walter Jones, and 96, Cortez Kennedey. These are actual retired Seahawks Numbers.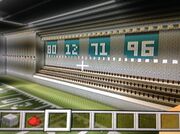 Just so you know I am far from finished with this beautiful stadium. I will keep you all updated and let you know when I think it's completely done!
Ad blocker interference detected!
Wikia is a free-to-use site that makes money from advertising. We have a modified experience for viewers using ad blockers

Wikia is not accessible if you've made further modifications. Remove the custom ad blocker rule(s) and the page will load as expected.