Welcome to the Wiki!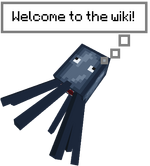 Welcome to the Minecraft wiki, and thank you for your much valued contributions! There's a lot to do around here, so I hope you'll stay with us and make many more improvements.
It is a good idea to read our Policy, so you know what to do and what not.
Recent changes is a great next stop, because you can see what pages other people have been editing, and where you can help.
Please sign in every time you edit, so that we can recognize you!
I'm really happy to have you here, and look forward to contributing with you!
-- Sharple (Talk) 20:43, 30 March 2013
Edit on the Zombie page
Hi there Mr Ibn-La'Ahad, just a quick note in regards to your edit to the Zombie page; please don't remove relevant information (in this case, the infobox image), as it hinders other users, while making the page itself look considerably less appealing and professional. Thanks.

  Pathos | Talk Page | Mon 8 April 2013, 06:13