Welcome to the Wiki!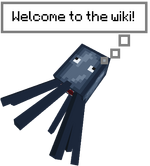 Welcome to the Minecraft wiki, and thank you for your much valued contributions! There's a lot to do around here, so I hope you'll stay with us and make many more improvements.
It is a good idea to read our Policy, so you know what to do and what not.
Recent changes is a great next stop, because you can see what pages other people have been editing, and where you can help.
Please sign in every time you edit, so that we can recognize you!
I'm really happy to have you here, and look forward to contributing with you!
The Pathogen (talk) 17:12, July 9, 2013 (UTC)
As for the new stuff coming to Minecraft, I read the Computer Wiki Minecraft Computer Wiki. I'm not quite sure where they get their stuff; all I know is one of my sisters is an admin there.
SunflowerLeaf (talk) 21:31, August 15, 2013 (UTC)SunflowerLeaf
Thanks
Thanks :) The whole "approval" thing for userboxes doesn't really matter. If you see one you like, feel free to go into the source and take the coding.
— CandD (talk) 20:48, August 20, 2013 (UTC)
References
Hey StrawDog!
I say how you were trying to add references to the Playstation Edition pages, so I desided to message you to give a quick run-over for adding references.
To simply add in a reference, you must first enter source-mode and find where the reference best applies. Then you have to enter the following code:
<ref>(website link (i.e. www.yahoo.com))</ref>
You already seem to know how to add in the references list.
Keep up the good work! — CandD (talk) 14:53, August 21, 2013 (UTC)
Just an addition, I changed the code in CanD's previous message to show the actual wikitext needed to use <ref> tags. :) Also, for the references to properly be displayed at the bottom of a page, you need to include a <references/> tag at the end of the page, preferably under a "References" heading.  

Pathos

|

Talk Page

|

Thu 22 August 2013, 03:59
You would like to have a full list of what's coming to Minecraft? 
My resource is the Minecraft Computer Wiki. Enjoy!
SunflowerLeaf (talk) 00:07, October 4, 2013 (UTC)SunflowerLeaf